Mobile application development company in
BANJARA HILLS
Every dream deserves to be true and making dreams into destiny happens through us. Mobile has become eternal part of our life and using mobile application has become requirement today rather than for fancy and entertainment. Mobiles have simplified life and the android and ios ecosystems have occupied the complete market. Everyday hundreds of mobile applications are getting life on android and ios and making the vision into real.
Our mobile application developers own expertise of application development for apple store and android play store. We understand your dreams, envision them, simplify the path, analyse the changes required, pave the path and release the idea to market to perform its best.
Mobile app strategy
Application is unique and different. In today's world, it is not the one with lot of experience is counted, but the one with latest ideas and creativity are in demand. Gone are the days of first movers, today the whole world bows to fast movers. Our mobile app strategy passes through various steps by understanding the following points: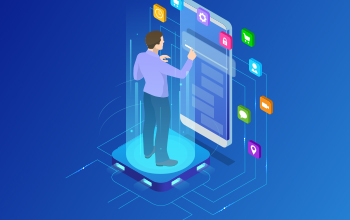 Idea strength
Idea launch time
Market requirement
Problem solving analysis
User requirements
Competitor analysis
Future possibilities
Innovation and changes needs
Expected performance
Market likes and dislikes
And many more….
As an app development organization, we understand your thought, envision it, calculate its success rate, estimate its vulnerabilities and performance aspects and simplify it into a technological output. We worked on numerous projects and all of them left us with something to learn and improve. Our projects have been successfully running in the market and giving tough competition to the competitors of our clients.
We work like this:
We explore your idea completely-Completely unique designs, intuitive feel
User experience design
For our organization everything is pale without creativity and creativity is the tool to solve the ever lasting problems and pave path for several possibilities. Our designers enable the prototype after having several discussions with the clients. Our capable designers will give you a problem solution through a prototype presentation and help you refine your idea to more user friendly and trendy way. Thus helping you in performance in regard of usage, time for downloads and customer retention.
We enable Best developers assigned on your mobile app
Development
Everything that is beautiful has lot of planning and hard work at its back. Our excellent teams have mastered the art of developing useful mobile applications that give the user a feeling of satisfaction and contentment. Our development techniques are unique and done in an user friendly way, so as to keep the usage uncomplicated and simple. With the credit of several apps in play store, we have lot of miles to cross in app development yet.
App development has to be bug free
Testing
How much ever care is taken for developing an application, with the experienced developer, there are some issues that are there in any mobile application. Not even an single application is spared of bugs and issues in first turn. Testing will help you to understand the app performance and rectify its errors before it reaches the user. Our quality analysts test the app against several test modules and help the application to become a perfect output, not an experiment.